Laser Plates Instructions

Step 1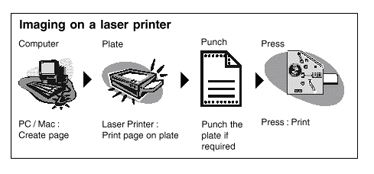 Imaging on Laser Printer: Scan in and/or create the complete page on your desktop computer
using a standard page make-up software. Proof it if necessary,
by taking a laser print-out on paper.
Manually feed Base-Line laser plate into the laser printer
and take a print-out.
You now have a press-ready plate in hand.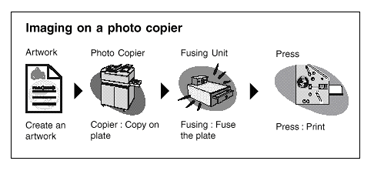 Imaging on Plain Paper Copier: Make a photocopy of your hard-copy original onto the
Base-Line plate on a PPC machine as you would on paper.
Step 2
Punch the plate, if required.
Step 3
Load Base-Line laser plate onto the small offset machine.
Step 4
Wipe the plate with Laser Direct™ Laser Plate Cleaner to remove toner spray,
if any, from the background.
Step 5
Wet the plate thoroughly and commence printing.